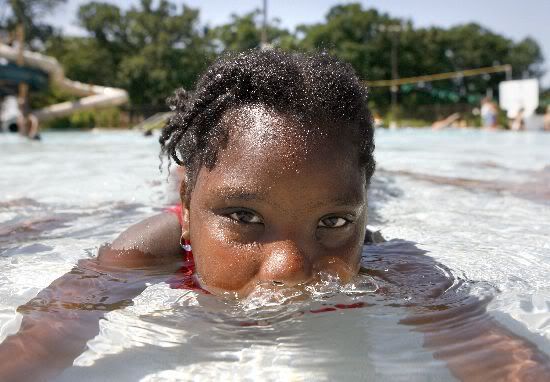 Summer is here, a time that many people often associate with water sports and swimming. Many people, but not me, since I don't really swim. People here in Slovenia always react strangely when I tell them I don't really know how to swim and that I did not learn how to swim as a child. In fact, my mother and brother don't know how to swim and most of my black friends growing up did not know how to swim either. This doesn't mean black people can't swim*, it means that many of us simply never learn. The reasons are manifold, and many are outlined in this useful article from WNYC and this (more lengthy) survey report from the USA Swimming Association. From disinterest to fear to concern about damaging one's hairstyle, the reasons range from serious to inane and I have heard or been the deliverer of many of them, but I think the biggest issue is not learning as a small child, which is often the outgrowth of having parents who never learned or are afraid, no or limited access to a swimming people, and concerns about the costs of and time for swimming lessons.



Black Olympic gold medal winning relay swimmer Cullen Jones

In the past, I've posted about Cullen Jones, the black Olympic gold winner in swimming and his efforts to develop swimming education for young black American children (who are 13 times more likely to drown than white**), and I've also written about my efforts in learning to swim (efforts I'll maybe pick up again in the future), but I think it bears much more repeating. Not only to build awareness, but also to encourage tolerance and understanding in places where swimming is more the "norm" and action (by someone other than me!) in places where we can make a difference.


*Black people CAN and DO swim. All over the world. I have to say this explicitly, because I know some stupid person might read this and otherwise get the wrong idea. I've seen how quickly ignorant racist ideas fly around this country. BTW, here's a bonus to those same dummies, black people DO feel heat just the same as white people.

** Turns out a near-drowning was the impetus for Cullen himself to learn to swim!